Flexion
Synth
Deform your oscillators, mutate with modifiers, transform through modulators – and much more.
Flexion opens the blackbox by enabling direct designs of evolving sound timbres at the core level. Extend the limits of classic waveforms and create the new classic. Say goodbye to static oscillators and construct dynamic and multi-dimensional shapes.
Top off your construction with global transformations, modulations and effects. Tame the beast by designing an interface and finally – close the lid of your very own blackbox.
Enjoy your creation and – if you like – share it with the community!
Timbre Bending
Ever heard of timbre-bending? We neither, but Flexion's basic building blocks – Flexcurves – make it possible. Flexcurves create complex and multi-dimensional morphing waveforms as demonstrated in this example. It features a single constructive oscillator and there are no effects or filters applied to it.

Add the icing to the constructive oscillator by imposing a deformable spectral Flexcurve on the timbre and – last but not least – apply additional sound-bending partial rules. In this example timbre has been altered and one partial rule added – still no effects of filters applied.

Satisfy even more of your timbre-bending desires by using additional Flexcurves to apply phase distortion, waveshaping, and spectral stretching – of course all aliasing free. This example stretches the hell out of the partials. Again, no effects or filters applied – but don't worry, we do have those on board as well.
More Features
Timbre-bending requires movement and almost every control includes multiple inlets ready to be patched in. To feed them, Flexion provides 8 constructive stereo modulators that each create up to 5 independent or synced sub-signals – including envelope, lfo, stepper and noise. Extra features such as mid-side processing and modifier sub-modules optionally turn each modulator into a beast! Additionally you can use the sources from MIDI or MPE controllers and more.

The deep possibilities inherent in the constructive synthesis approach are complemented with traditional processors such as two analog sounding ladder filters, state variable filters, shapers, reverb and other fx such as delay, flanger and chorus.

Of course, we didn't stop there and created an additional powerful module – the reactor. It reacts to frequency specific impulses which can be sourced from note events and/or constructor cross-feeds. Those reactions can be made audible and/or be used as additional modulation sources – enabling timbre alterations based on reactions to frequency specific inputs, for example, and much more!
Put on the lid, share and earn
After you have used all the flexible tools provided to assemble and tweak your engine, close the hood and give it the custom controls it deserves. You can populate, connect, style and arrange a dedicated canvas for your preset as you see fit.
Make it truly yours by including your logo and more.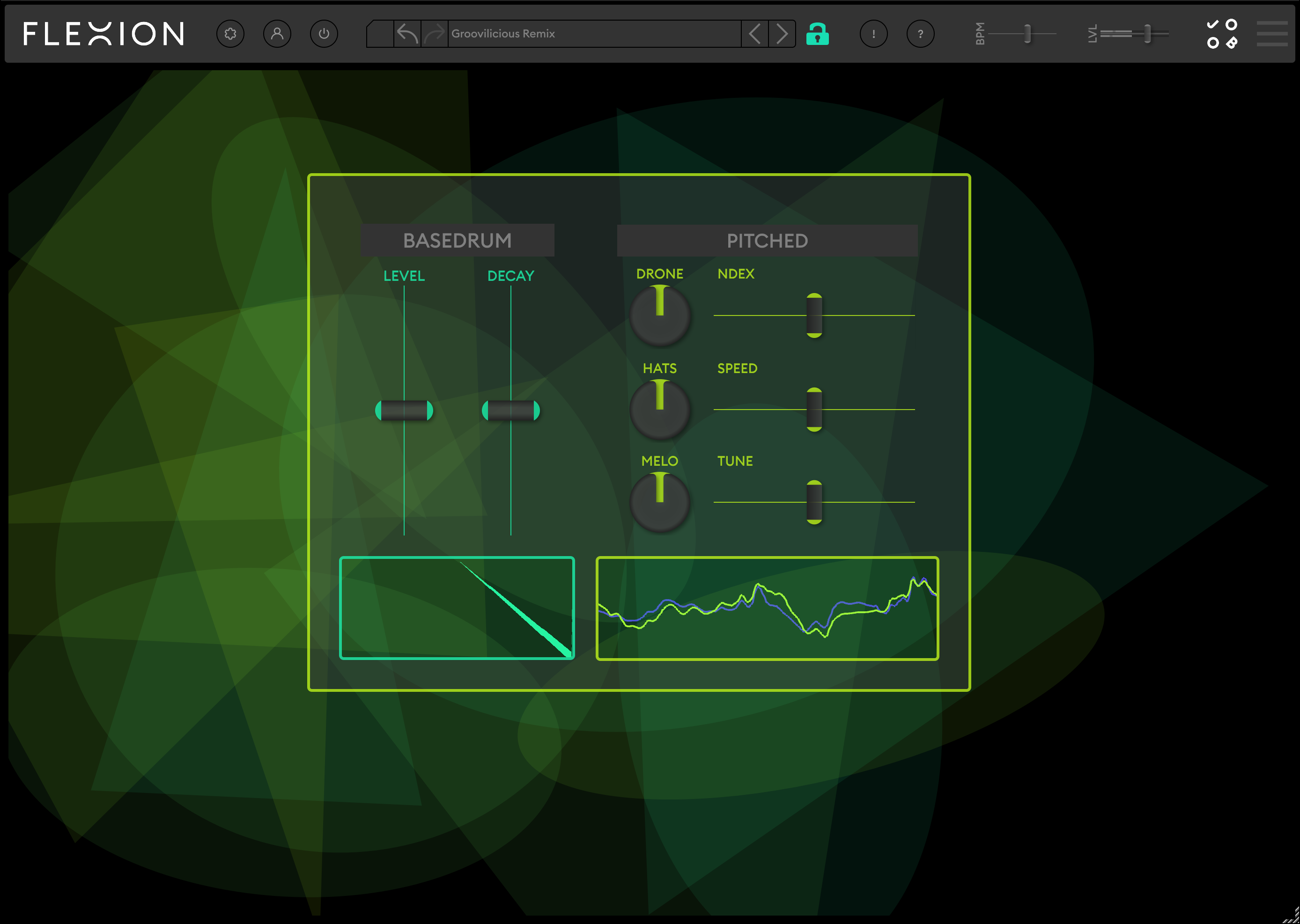 If you like for the Flexion community to use your creation: go ahead and hit share – directly via the integrated preset browser. Your uploads will be free to try for other users with an "audio-watermark". If a user decides to remove the watermark he/she can unlock your creation and you will automatically be rewarded with earnings!